Since this week at
Fantabulous Cricut
we are having a "Sweet Shop" challenge, I wanted to share another "sweet" layout I created featuring some good enough to eat cupcakes and my cutie. The page matches her outfit (this time, on purpose! LOL!), even part of the title (which I handwrote to match). Now the cupcakes have a lot of detail and dimension (it's all about Scrap-Stickle-Pop!). They are from Doodlecharms. I cut off the candle and added my own cherry. They are shadowed in red, the "wrappers" are crinkled like actual wrappers, the "frosting" is from velvet/flocked paper, which I also embossed with stars - some which I stickled, others which I blinged. I really wanted to make the cherries pop, so I added red beads to them and created the stems with scraps. The pictures speak for themselves, she is definitely a CUTIE! So here is the layout...
I also wanted to let you know that another Fantabulous Cricut Crawl - this one will be "Share the LOVE" is coming soon!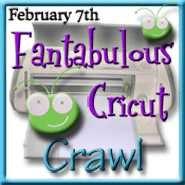 Hope you all have a great week! Come back soon to see more projects!
Thanks for stopping by!