Hello everyone! I have lots to share today, so this might be a lengthy post. Let me begin with...
Wow, did I have a busy weekend! Thanksgiving was absolutely wonderful - it is the best kick off to the holiday season together with my wonderful family! Here is my favorite picture of the night:
I hope everyone had a great Thanksgiving, as well! But as soon as Thanksgiving was over, it was off to my Black Friday escapades! I started at 2:30am and went straight through to noon - what a crazy adventure!! My Black Friday partner in crime, Marylin and her sister, joined me a little after 4am. Although not as spectacular as other years, it was still a great adventure. I had to cut it short because I had a wedding in the afternoon.
My favorite find, though, didn't exactly happen on Friday, more like Saturday, by accident. I found out about the NEW cricut cartridge lites that Walmart was going to debut on Friday on Thanksgiving day. I researched them and found the pictures on cricut.com and made it one of my need to get on Black Friday items. Unfortunately, my Walmart didn't even know what I was talking about and had none. The Walmart in Kendall did carry them, but didn't have the ones I wanted. I ended up getting the "Carousel" cartridge for $20, though :)
On Saturday night, my family and I drove to the Pembroke Pines Walmart in search of lights for our house and while walking around, they had a whole display with all the new cartridges and the beautiful Cricut Expressions in color. I was able to get the ones I wanted for $20 each - so excited, can't wait to use them!!!!!!!!!
There is a NEW GYPSY UPDATE for all of you Gypsy owners out there. I updated tonight and linked all my new cartridges. I went on a little Cricut Christmas shopping spree for me the past couple weeks and I have five new cartridges that I need to explore and play with (as soon as I find the time, hmmmm, when will that be??). So for those of you that want to see what the new cartridges have, check cricut.com (under the "shopping" tab, click on shape cartridges, they are right at the top, click images) and/or update your Gypsy to play with the images. Hopefully I'll be able to create something soon to show you all the absolute cuteness of these cartridges!!
Next, I wanted to share a layout with you all tonight of one of the classes that I am teaching at
My Paper Tree House
on December 15th! It was inspired from my need to finish my Disney Album, which I am still in the process (and what a long process it is!). When it's all done, I will post the entire album, but it is a crazy month, so it might not get done till 2011, lol!
This layout is also great for this week's ribbon challenge at
Fantabulous Cricut
! I used ribbon in all sorts of ways - from borders, to photo corners to photo frame & embellishment accents! If you're in the Miami area, be sure to sign up for the class
HERE
. Also, be sure to join in on the fun at FCCB this week and submit your own project for the ribbon challenge!
Here are some close-ups of the layout...
As many of you know, I am on the Fantabulous Cricut Design Team. Well coming up on December 13th, we are having our "Deck the Hall Crawl" which is FCCB's version of a Blog Hop! I'm excited because it will be my first one! I am working on a couple projects - one that I will debut on the day of the crawl and I will probably feature others that week, too! So be sure to mark your calendars, save the date and keep coming back here for more inspiration!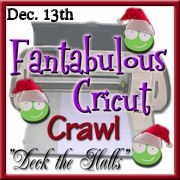 Finally, I also received two blog awards last week and I wanted to thank
Savahanna
and
Angie
for giving those awards to me! I will post the awards and the details of them on another post this week, but I need some time to get those together and I've run out of that tonight. I did want to let you all know that I did visit your blogs to pick them up and I am so honored!! You both are so sweet....Thanks again!
Thanks for reading through the extra long post - I figured, I had been away for quite a few days, I'd get you all caught up! Thanks for stopping by and feel free to leave a comment (I love those ;)
Have a great week everybody!