Last night I created this super cute layout that I want to share. I have the most adorable picture of my little cowgirl, Sofi and I had recently found two great papers at Michael's for this layout. I was also super excited to use my new "Old West" cartridge that I got for $9.99 on clearance. So in getting caught up with a bunch of blogs that I follow yesterday, I came across this super great sketch at
Stuck on U Sketche
s and I took out the picture and papers immediately to create right away. I love when a sketch can do that! So here is my layout along with the sketch...
For my title, I really wanted it to pop, so I shadowed it, and it really brought the whole page together. In celebration of groundhog's day,
Cooking with Cricut
is having a "shadow" challenge this week, so I'm entering it in that challenge as well. I cut a hat to match my daughter's and I just finished it up with the lasso to bring it all together.
I also just got my Distrezz-It-All yesterday and I was dying to use it on this page because the two just go together. Here is another angle so you can see the distressing on the papers/mats. I'm so loving my new little machine!
Finally, I came across another new challenge blog over at
Melissa
and
Amanda's
blog called "Scrappy Saturdays with the Bug" and they are having their very first challenge this week. I love it because it focuses only on scrapbooking and the cricut - it's what I'm all about! So I'm excited to join in on their challenge, too. If you're a scrapbooker, be sure to check them out!
So I hope you've enjoyed my page!
You must stop by again tomorrow for our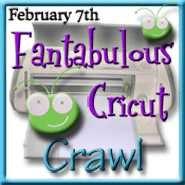 I have a great project to share with you all and I hope you join in on the fun!
Have a great rest of your weekend everyone!